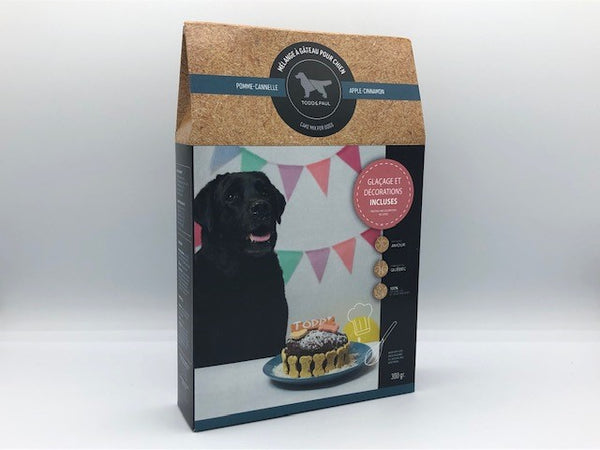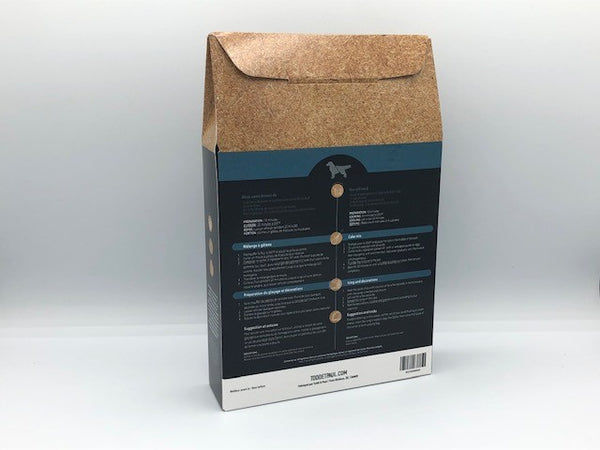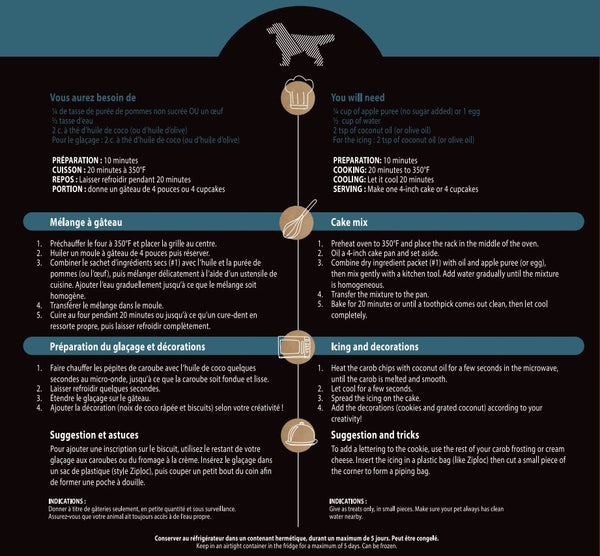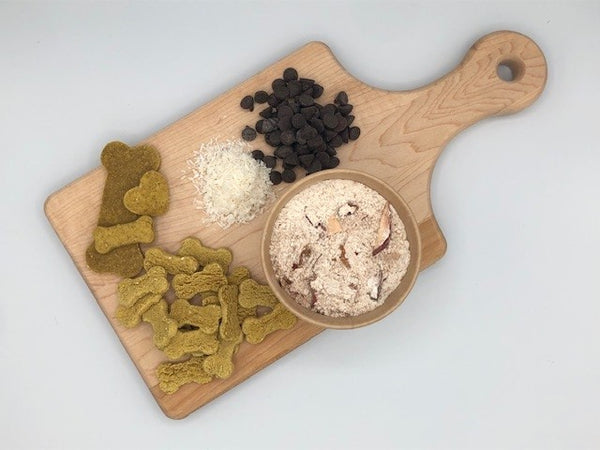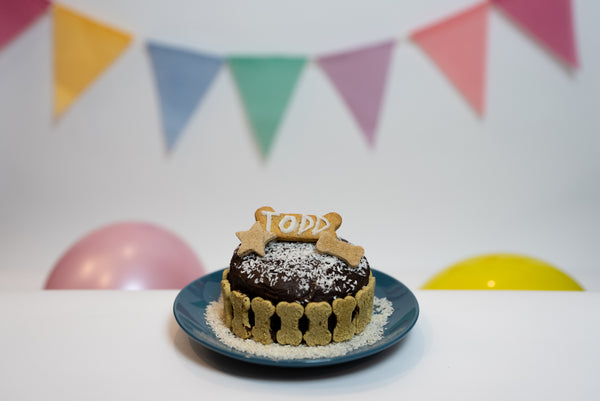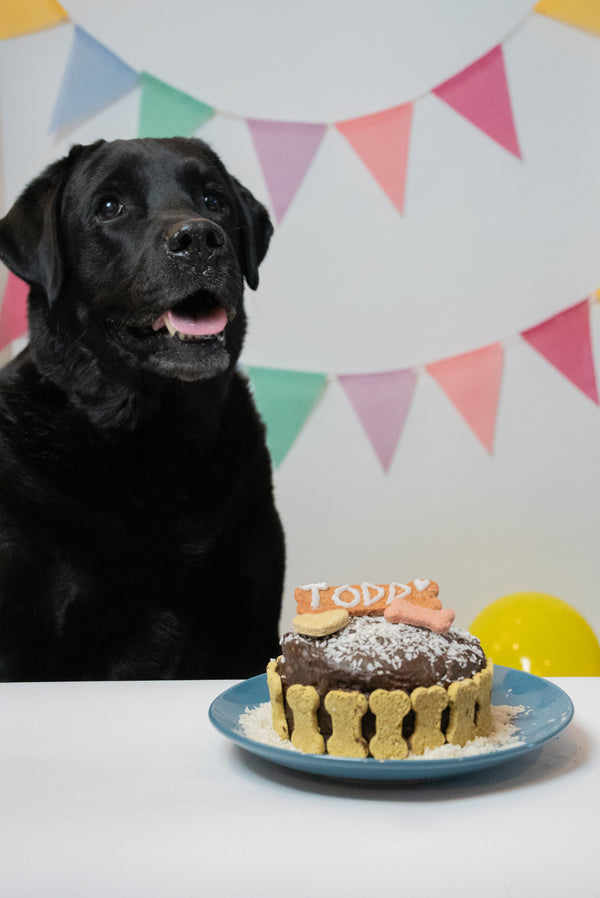 Todd & Paul's famous birthday cakes are now available in a box so you can make them at home!
Have fun creating a delicious apple cinnamon cake! Our pastries are all natural, vegetarian, with no added sugar or coloring.

Included in the box: mix for cake batter, icing, decorations
Ingredients : 
Cake mix: Wheat flour, dehydrated apples, cinnamon, baking soda, baking powder
Icing : Caroub chips
Decorations: grated coconut, Todd & Paul pumpkin cookies (wheat flour, oats, pumpkin puree, apple puree, cinnamon, turmeric, baking powder, lemon juice, coconut oil)
Guaranteed analysis:
Crude protein (min) 9.9% / Crude fat (min) - 21.3% / Crude fibre (max) - 2.3% / Moisture (max) - 4.7% / Calories/100 gr - 482/p>
You will need :
¼ cup unsweetened applesauce OR one egg
½ cup water
2 tablespoons coconut oil (or olive oil)
For the glaze: 2 tablespoons coconut oil (or olive oil)
Preparation time : 10 minutes then leave to cool for 20 minutes
serving : Give 1 4-inch cake or 4 cupcakes
Instructions :
Cake mix :
Preheat oven to 350°F and place rack in center.
Oil a 4-inch cake pan and set aside.
Combine the bag of dry ingredients (#1) with the oil and apple sauce (or egg). Gently mix with a kitchen utensil, gradually adding water until smooth.
Transfer the mixture to the pan.
Bake for 20 minutes or until a toothpick comes out clean, then cool completely.
Icing and decorations preparation:
Heat the carob chips with the coconut oil for a few seconds in the microwave, until the carob is melted and smooth.
Let it cool few seconds
Spread the icing over the cake.
Add decoration (grated coconut and cookies) to suit your creativity!
Tricks :
To add an inscription to the cookie, use leftover carob icing or cream cheese. Insert the icing into a plastic bag (Ziploc style), then cut off a small piece of the corner to form a piping bag.
For colored coconuts, use natural fruit juices. For example: blueberry juice for a purple coconut, beet for a pink coconut or turmeric for a yellow coconut!
Indications :
Give as treats only, in small quantities and under supervision. Make sure your pet always has clean water.
Suggested number of servings per day according to your pet's weight :
| | |
| --- | --- |
| 6 kg | 1/16 of cake |
| 11 kg | 1/8 of cake |
| 20 kg | ¼ of cake |
| 36 kg or more | ½ of cake |
Store in an airtight container in the refrigerator for up to 5 days.
Can be frozen.